Vertical Grips | Vertical Foregrips On Sale Up to 50% Off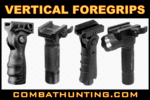 Combat Hunting is your source for UTG AR-15 Vertical Foregrips for M-Lok, KeyMod and Picatinny Rail grips for sale at great prices. We have UTG AR-15 vertical grips with flashlight and laser, Bipod vertical grip parts and accessories on sale now at low prices. Shop our vast selection of UTG Keymod, M-Lok vertical foregrips with light lasers, and AR hand stops. We have vertical grips and handstop picatinny angled foregrips on sale for AR-15 rifles and shotguns.

We have UTG AK47, AR 15 Vertical Forward Grips with light laser sight with bipod at great prices for sale. The AR hand stop and Vertical Fore-grip help improve accuracy and reduce muzzle climb. We have a tactical vertical angled fore-grip that holds extra tactical flashlight batteries, small gear in a waterproof compartment. Combathunting.com is your source for shotgun vertical foregrips, grip parts and accessories. Shop our vast selection of vertical foregrips that can be added to pump shotguns with rails on forend and save!